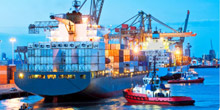 Intercontinental understands that an international Relocation can be an exciting opportunity and at the same time a confusing and stressful endeavor. There are many details and arrangements involved in performing a smooth and well-organized international relocation. You require the professional expertise of great many people who have the concern and commitment you expect. INTERCONTINENTAL and its people have the special expertise and commitment our Clients need, beginning with the preplanning of your relocation until you have settled into your new home, in a new country.
INTERCONTINENTAL KNOWS INTERNATIONAL MOVING!
The Intercontinental System has been designed to offer an extensive program assisting both individuals and multinational corporations with international relocations. Intercontinental has one goal in mind… to ensure your complete satisfaction.
Pre-planning: • The secret to any successful relocation starts with preplanning. Individuals are counseled as to the may requirements pertinent to their move. A plan is designed to meet each individual's schedule and concerns, using the most effective and safest means of transport for a "Door to Door" relocation. Throughout the moving process we constantly monitor, communicate and manage the process step by step.
Packing: The latest international packing materials and techniques are utilized by our trained professionals. Special care is always given to your delicate and fragile possessions. Custom crating of your items provides your goods the ultimate protection, assuring you of a secure and worry-free transit to your overseas destination.
Containerization: Shipments are prepared and containerized according to the mode of transport required! Whether it is by van, truck, sea, air or rail, we provide the most advantageous, affordable and safe method of transport. *see containers (Link)
Documentation: Transportation from one country to another requires the completion of specific shipping documentation. Our specialists process and implement this documentation in conjunction with you and/or your employer, thereby ensuring your shipment moves on time, from "Door to Door".
Transport Management: Your shipment is constantly monitored, and schedules are updated while in transit…Keeping you informed every step of the way.
Customs: :

Virtually all shipments require customs clearance when they arrive in country.

Our Preplanning process will identify and prepare you as to the necessary documents. Our destination representative will assist you through this process, to ensure proper compliance.
Delivery: At destination, the INTERCONTINENTAL agent will coordinate and deliver your possessions into your new residence, with the same care and attention as we provided at origin.
INTERCONTINENTAL DESIGNS YOUR INTERNATIONAL RELOCATION MOVE TO MEET YOUR BUDGET, YOUR SCHEDULE AND HELP NAVIGATE YOU THROUGH THE COMPLICATED CUSTOMS PROCESS.
UNIQUELY QUALIFIED TO GIVE YOU "PEACE OF MIND"